---
Launching a business blog is not easy. Maintaining one - or worse, growing one - is even more difficult. But I didn't realize just how difficult this was until I joined the Sidekick Team at HubSpot.
After two years of blogging and producing offers for HubSpot's audience of 1.2 million readers, I was suddenly faced with an audience of zero. I went from a team of brilliant content creators to ... me. And when I Googled, "how to launch a new blog," I got the crappiest advice.
"Network, network, network!" - okay, cool, and that accomplishes what exactly?
"Start writing, and keep writing!" - yeahhhh, about what?
"Share your blog on social media!" - right, because everyone on Twitter is just DYING to read my latest gibberish.
Fortunately, I was working with an amazing team. My manager, Brian Balfour, had perfected the art of audience research. And my colleague, Dan Wolchonok, had the perfect mix of technical expertise and growth passion to quickly ship experiments. The three of us worked together to launch what is now the Sidekick Blog, and within five months we generated over 22,000 engaged email subscribers and retained an average of 30,000 monthly blog viewers.
Below is the documented playbook for how we did it. I present it here now with the hope of rescuing future marketers from the frustration I was met with. The presentation should walk you through everything. If you prefer reading detailed copy over visual presentations, the entire, detail-heavy, written version of the presentation is below.
---
---
Over the past seven years, the phrase, "content is king" has been constantly searched. Naturally marketers responded by adopting the content marketing mindset.
Their number one solution to capitalizing on this channel?
Publish.
Publish all the damn time.
But now there are 152 million blogs on the internet. And this means we need to handle things a bit more strategically. As detailed in the presentation, I see it coming down to the three core stages below. I've hyperlinked each stage and its subsections so you can easily jump around this guide.

Stage 1: Deeply understand your target audience. [Jump to Stage 1]

- Audience Research
- Sidekick Research Case Study
- 14 Blog Optimization Tips
- SlideShare-Specific Tips
- Lead Generation Specific Tips
- HubSpot Forms Case Study
- Why Subscribers Matter More Than Leads
- 8 Ways To Generate More Subscribers
- Sidekick Unsubscribes Case Study
Let's dive into each of these major steps more specifically.
---
Stage 1: Deeply understand your target audience.
The very first - and most overlooked step - of starting a new blog is conducting audience research. Audience research is when we take a step back to fully understand the way our end users / readers / customers think and operate. These findings then translate into an abundance of learnings, including how we tackle our content strategy.
All this audience research takes is:


Contacting at least 10 people in your target audience. This can be done by pulling current users in your database or even just searching LinkedIn for people with job titles that match your desired customer.
Scheduling 1-hour interviews. Once you get a few people to agree, try to meet them in exchange for a free coffee or lunch. If only virtual interviews are possible then send a gift card.
Ask them five sets of questions:



Find out who they are: Company name? Age? How long have they been in their current role? how large is their team? Why do they do what they do?
Find out what they do: What motivates them? What is the end game for them? What are their aspirations? Why did they change from company A to company B?
Find out what they want: What are their hopes and dreams? What content are they attracted to or read now?
Find out how they see themselves: How do they compare themselves to co-workers? Do they think there's more to learn about their profession? Do they hangout their co-workers outside of work?
Find out how they spend their day-to-day: What do they read? What do they share? How do they learn about new stuff? New articles? What do they hate about their day? What do they love?
After asking these questions to a group of people, you'll begin to notice patterns and trends across your audience. Aggregate these results to build an initial illustration of your target blog audience.



We interviewed almost 100 people in different industries and roles – each a member of the audience we were trying to reach. We learned that:
x  Their days are too packed to focus attention on reading a lengthy article.
x  They want to see more content discussing ideas they can take immediate action on.
x  They just want to own at their job – many had a strong desire to control their own destiny.
We took this qualitative insight and launched a blog with three key focuses:
✓ Publish concise content that puts high emphasis on direct tactics over fluffy explanations.
✓ Publish content from individual contributors, not managers.
✓ Publish the secret to success from top performers.



You may be thinking - well, that's insightful, but sounds like a decent amount of work. I recommend dedicating at least one full-time employee to this project. If this person has to take on other projects post-launch, so be it, but the actually time needed to launch a blog correctly is best achieved when you have a dedicated resource. (I'll be posting about what to look for in this hire in the coming months. Subscribe to the right to get alerted when it's published).

---
Stage 2: Produce posts that attract & scale blog traffic.
Audience research should be used to plan your content strategy and structure. I mentioned earlier that there's a growing abundance of businesses employing content marketing, which is resulting in content clutter.
To combat this, our strategy on the Sidekick Content Team is to focus on quality over quantity. But in order to make quality work, we need every blog post we publish to give us the power and results of multiple blog posts. To do this effectively, we focus on the following 20 optimization tips:
✓ Optimize the URL to speak with search engines.

Note: Be sure to separate your target keywords with a dash (-) so search engines can read each word.
x But don't make it so long that it seems keyword-stuffed. Google's algorithm is smarter than that.
✓ Start with a clear, catchy headline.

x But don't write a catchy title if it doesn't accurately represent the content within the post.
✓ Captivate with your first sentence / meta text.
x But don't make your meta description too long. Google only displaces 150 characters on SERPs.
✓ Let readers scan content with section headers.

x But avoid keyword-stuffing headers. Google's algorithm penalizes "repeating the same words or phrases so often it sounds unnatural."
✓ Use easy-to-read visuals to enhance experience.

x But don't forget to include keywords in the image alt-text. Search engines read them to better identify what the post is about.
✓ Integrate internal links where relevant.

x But make the first internal link in the post the most important - that's what search engines rely on most.
✓ Generate click-to-tweet links for easy sharing.

x But don't forget to include a link back to your post in the tweet copy. You want to benefit from the sharing.

The next few optimization tips focus on SlideShare.
Why? Because 20% of all SlideShare views come from Google. This Google juice helps drive traffic from SERPs. In the image below, you'll notice that the first result for our search query displays a link on the Sidekick Blog while the second surfaces the same content on SlideShare. That means we're taking up more valuable real estate for each query related to our content that has a post and SlideShare presentation.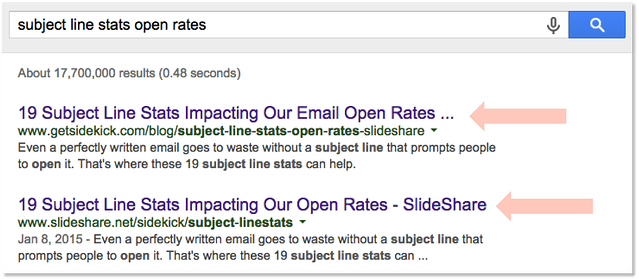 In fact, SlideShare is the highest converting social channels for HubSpot and Sidekick. Here's a few pointers:
✓ Keep visitors on your own content real estate by removing the links back to SlideShare that come with the embed.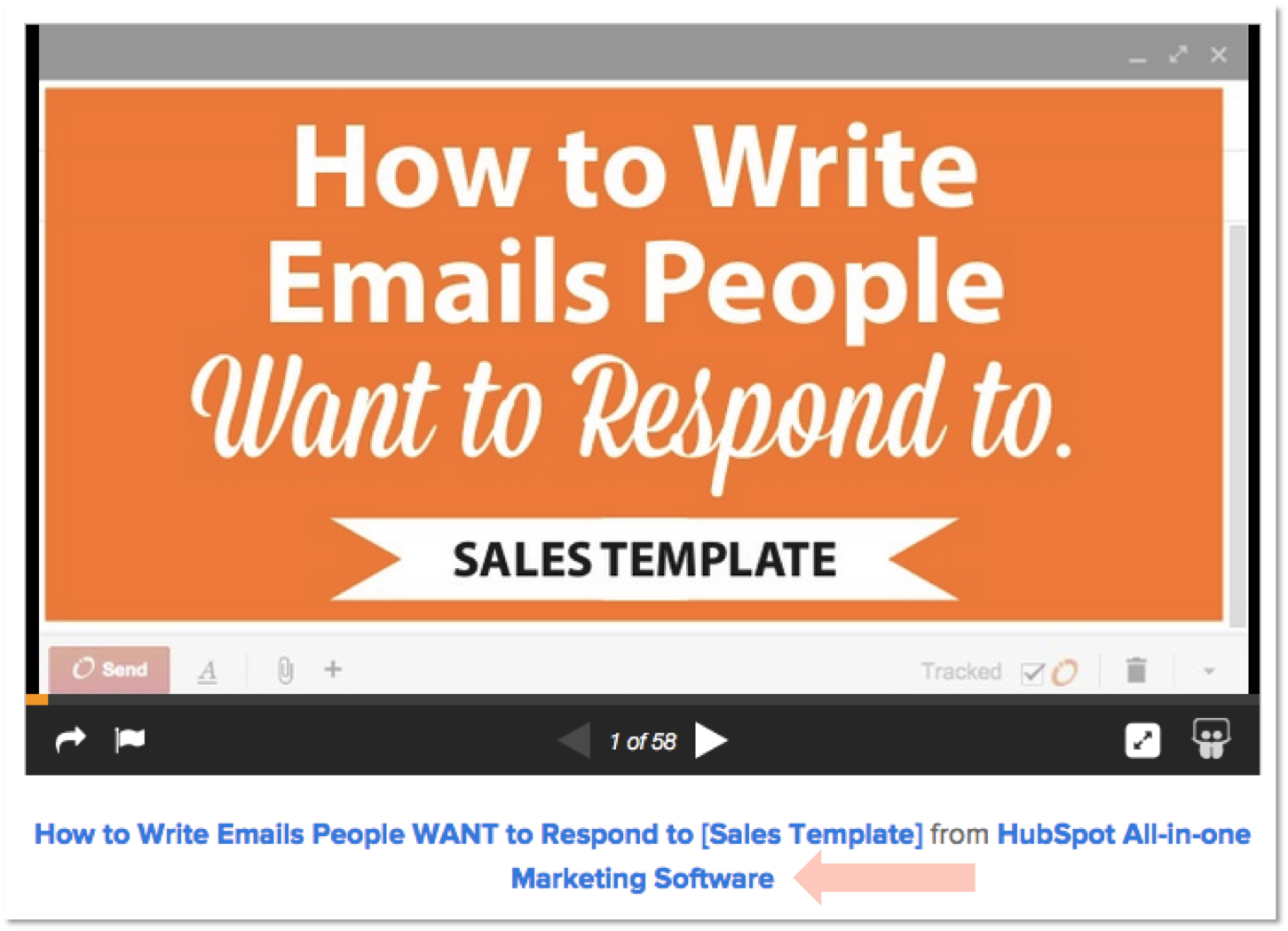 The final few tips center around lead generation.
Turns out that 97% more leads are generated for companies with an active blog. To generate leads from your blog, you need offers to collect them. So these final few optimization tips focus on offers specifically:
✓ Include a text-CTA towards the top of the post. The first URL hyperlinked in the post gets the most weight from Google.

✓ Build a form right into the ending CTA.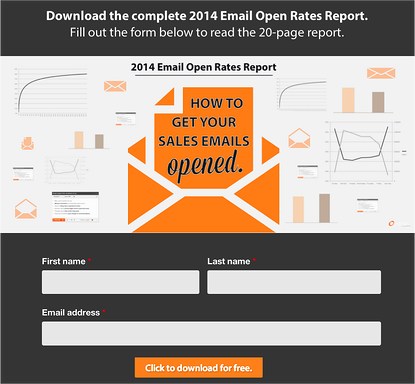 ✓ Or test smarts CTAs to show relevant offers.
Of course, the only way to know what will work best is to test it.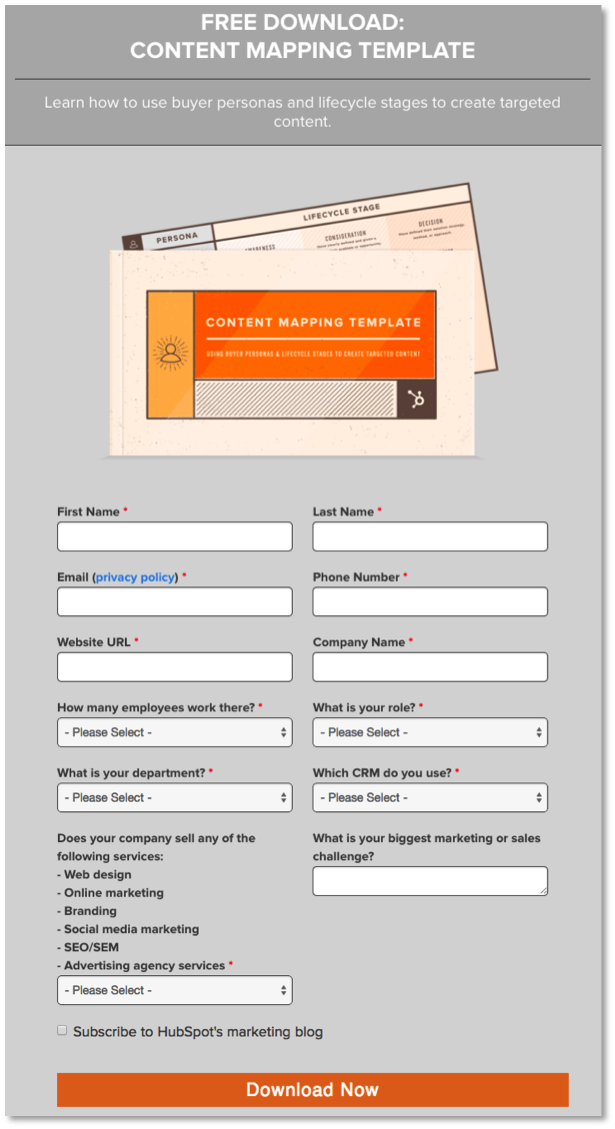 Some web forms require more fields. We found that longer lead generation forms embedded into the end of a blog post (see right) generated roughly 16% fewer leads than simply using a CTA image that navigates readers to a landing page.
But that wasn't the case for our shorter blog subscription forms (see below). These one-field forms converted 4X more subscribers than the CTA image linked to a separate landing page.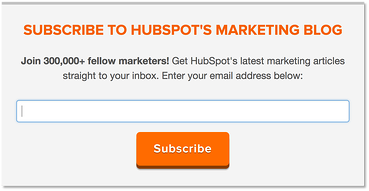 With the optimization tips and case study on leads, you may be thinking, what do we focus on next? Leads or subscribers? This brings us to the final stage.
---
Stage 3: Fuel growth of blog subscribers.
Every marketer launching a new blog makes the same first mistake: We instantly optimize for leads.
We see all the stats on how blogs can generate more leads. We feel pressure from executive management to prove the ROI of blogging. We crave immediate satisfaction of every post we publish. But here's the thing: The goal of a new blog is growing email subscribers first, NOT leads.
Now, I'm not saying your blog can't be a power source for generating leads - it absolutely can (and should) be. But building a blogging machine means building an audience to funnel through that machine first.
That's where the importance of email subscribers come in.
Our blog email subscribers are the people who have opted-in to receive our blog posts through email updates. When we first launched the Sidekick Blog, our first OKR (Objective Key Result) was to generate blog subscribers. Why? Because when we publish a new post, that post gets emailed to those subscribers, who in return promote it, bringing in a wider audience of new people. Looking at the Sidekick Blog today, nearly 77% of all views to our blog posts come from these email subscribers. [Click to Tweet]
HubSpot's Blog machine is built the same way.
Before joining the Sidekick Team at HubSpot, I worked on HubSpot's core content marketing team. When looking at any of our posts on the Marketing Blog, we noticed that roughly 70% of all first week views to HubSpot blog posts came from our growing list of email subscribers. [Click to Tweet]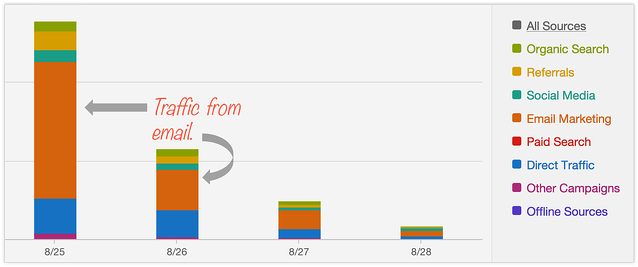 And when you zoom out of the post's first week of publishing, and look at it's traffic month-over-month, you'll notice that the majority of the traffic for this post is now coming from organic traffic.

Think about it: The larger the initial audience you send your content to, the greater the opportunities to validate to Google that this post is relevant. By having a set number of people reading the post, you're giving Google actual cues of your content's value.
So, you could start a blog with the sole intention of generating leads. But then every post you publish is a game - which posts will succeed, which won't? You end up comparing a post with 5 views to a post with 30 views, thinking that the latter is better because the internet somehow sent it more attention.

But the internet is a black hole. There are far, far too many factors that go into why certain posts get noticed, and some don't. Or, you could start a blog by first building an email subscriber base.
Growing an email subscriber base guarantees you some level of success for every post you publish. Let's say you grow to 200 email subscribers. Overtime you see that roughly 18% of your subscribers see your new posts on the day of publish. That ensures that every single post you publish will garner at least 36 views. That is now your accepted base level of success for any post your publish. It's not a publish and pray-someone-notices game.
From there, these 36 engaged readers will share the post beyond your current subscribers through tweets, email forwards, etc., helping you capture even more new visitors. As your blog gets shared, some posts may remain at 36 views, some may blow past 100 views. But at least now you can accurately assess what content you publish is better than others, because you know that your core audience has helped decipher what is and isn't interesting.

If you optimize for leads right out of the gate, you'll never build your audience, which means your content traffic will always remain flat or grow linearly rather than exponentially.
By focusing your blog strategy on generating subscribers before leads, you're setting up your business for long-term growth. You're allowing yourself to build a core audience that will build a machine that can consistently attract visitors and convert them into leads. Your blog simply can't generate leads if it doesn't have a consistently growing audience to convert.
So how do you generate blog subscribers?
By now you hopefully understand why blog subscribers are so critical to blog growth. When you first start a blog, a simple growth tactic is merely inviting people to read it - genius, right?
But before we can send out these email invitations, we have to ensure we have a crisp message for why our blog is different than others - this is where the audience research from stage one comes into play once more. Ask yourself:


Can you describe your blog in one sentence?

Would your researched persona read it?

We sent email invitations to three cohorts of people:
1. Content Contacts: Anyone who discovered our other content through forms on landing pages.
2. Churned Users: People who may no longer care about our product but may still care about our industry / best practices.
3. Non-Users: Leads who may one day use our product, but haven't yet.
Within these invitations to our current database before we even had any content published. But the strategy worked because the copy reflected a well-thought out message that our audience research indicated would resonate with who we ultimately wanted reading the blog.
On top of that, we didn't just sent them to a different page or form to subscribe - we already had their email, why ask for it again? Instead we tracked who clicked on the CTA to subscribe and automatically added them to our subscriber list.


Our thinking here is that our readers shouldn't have to do any extra work to discover our content. We should.

To keep growing our subscriber list, we tried these eight additional subscriber generation methods.
1. Experiment with a prominent CTA at the top of your blog homepage.
OkDork.com's above-the-fold homepage CTA, shown below, has an 8% conversation rate.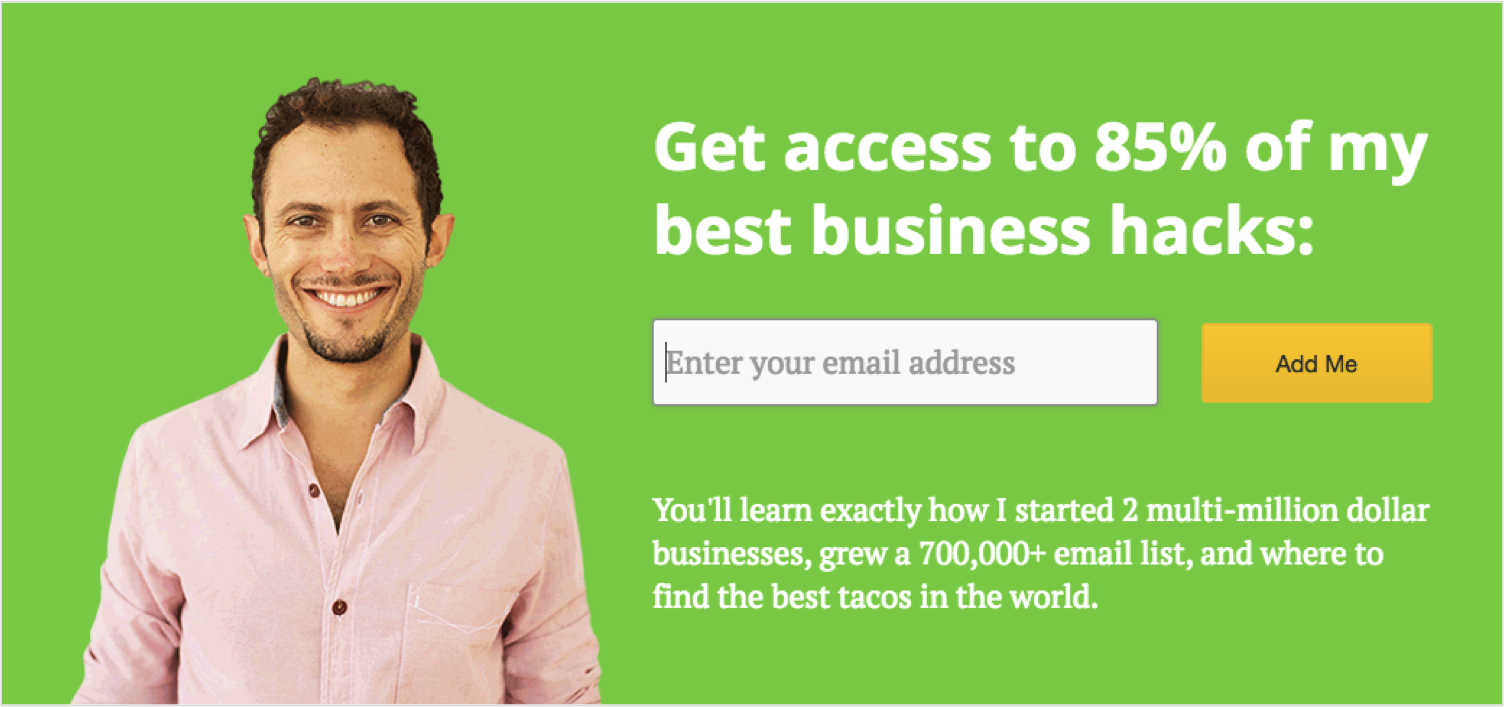 2. Test a CTA to subscribe at the end of side of each post.
DIYTheme's subscriber opt-in at the end of blog posts converts at an impressive 2%.

3. Try a slide-in CTA appearing as readers scroll down a post.
HubSpot's slide-in CTAs generate 27% more submissions than end-of-the-post CTAs. If you click the GIF below you'll even find an article on how to implement them.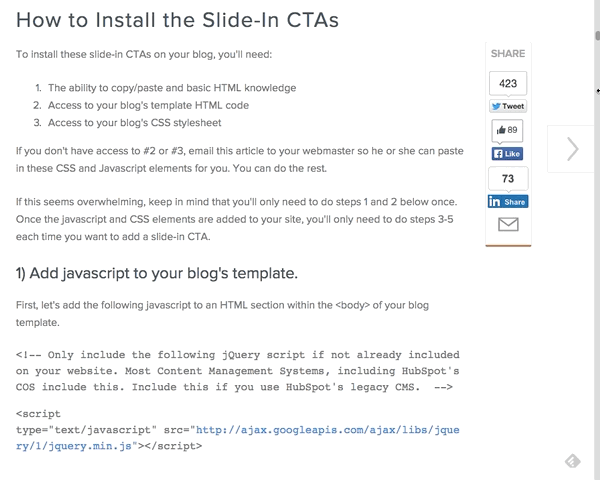 4. Try a pop-up CTA that hovers over the blog post.
Popups on Dan Zarrella's blog didn't reduce bounce rates and increased conversion by more than 100%.

5. Provide an option to subscribe when readers leave comments.
This sweeps in free subscribers from people already interested enough to share a comment.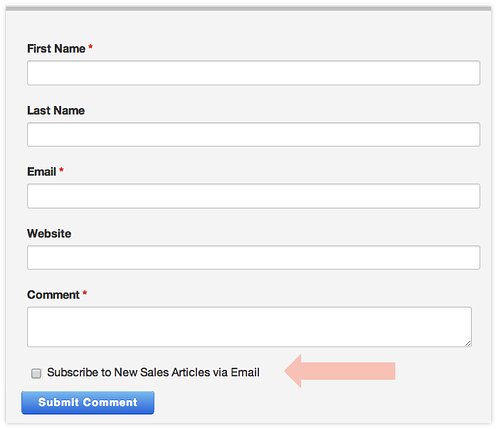 6. Allow visitors who show interest elsewhere on your site to subscribe.
When HubSpot implemented this checkbox on its landing page forms, they increased blog subscribers by 128%.
7. Try sending invitations with your best posts during customer onboarding.
Providing the option to subscribe to Sidekick Content during Sidekick product onboarding converts over 7% of weekly new users into subscribers.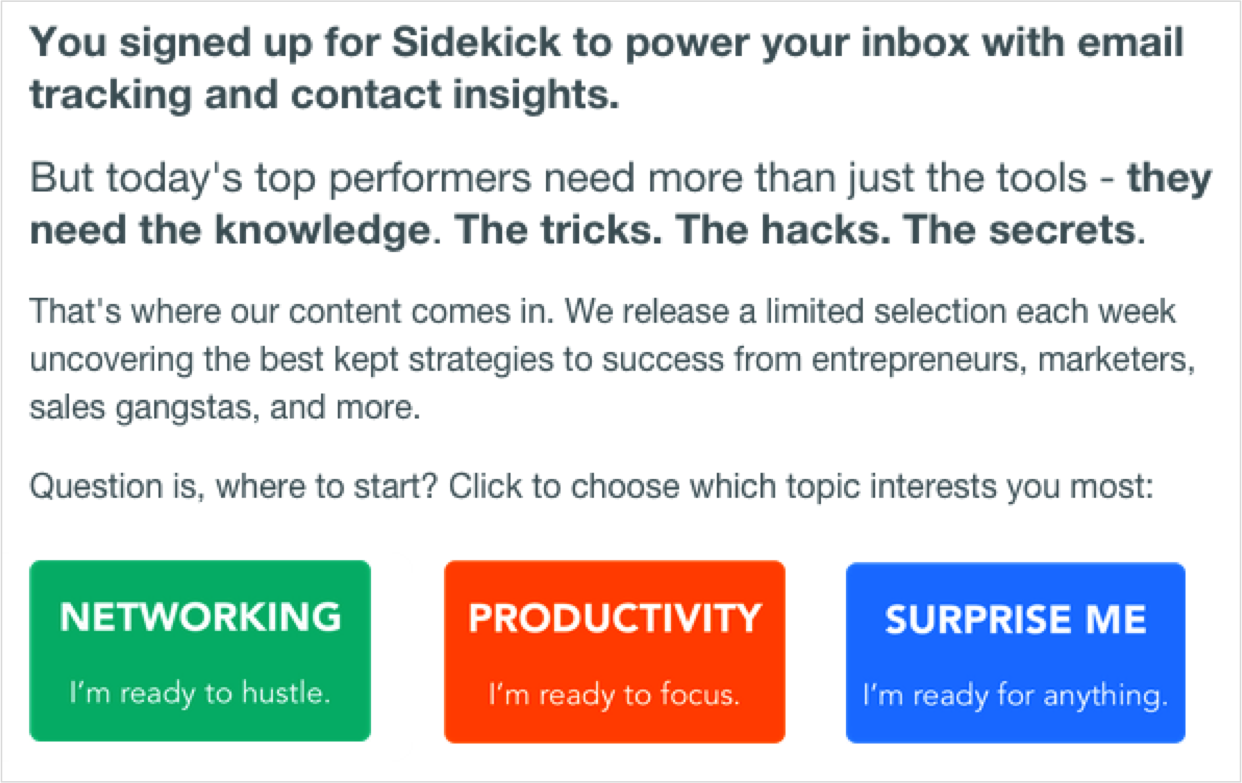 8. Or test a one-time send to re-engaged churned users with content, not product.
Sidekick achieved an average 4% CTR on email invites from people who previously stopped showing interest.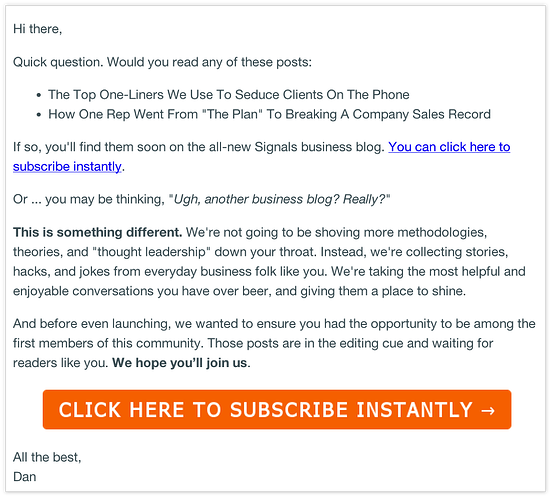 We tested each CTA type and quickly generated nearly 10K blog subscribers within six weeks. But this brought a whole new warning signals to go off: We needed to watch our engagement rates because we didn't want to send content to people who didn't want it.
Although we eventually reached 60K blog subscribers, we noticed that only 22K of them were actively reading our content. So we removed the others from our subscriber list - the arrow in the image below shows the drop in our subscribers when we made this change.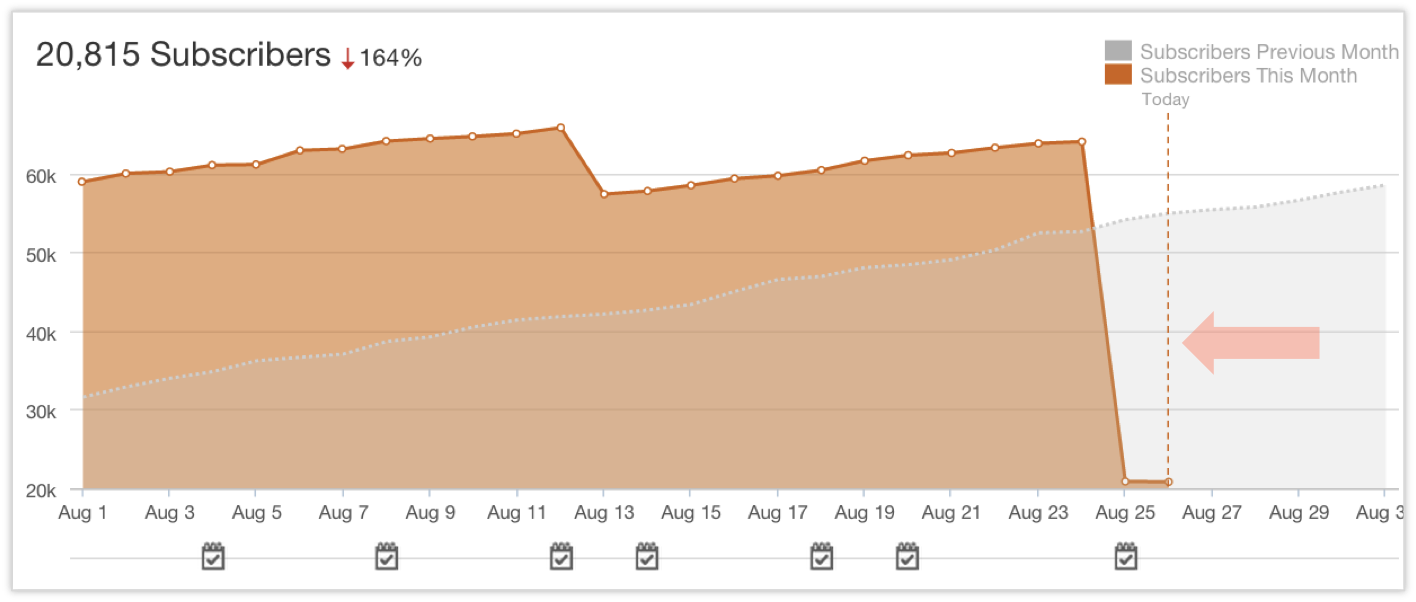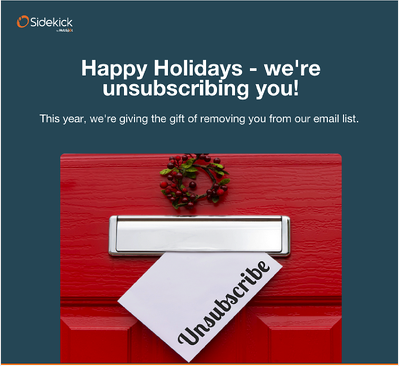 We sacrificed subscribers for success. We believe having a healthy list of engaged readers is far more important than having a large list of inactive readers. This also ensures our strategy is directed by those who care about us most.
Now we run routine "unsubscribe campaigns" where we let folks know we'll remove them from our list. We provide them with the option to stay on our list, but if they don't click that CTA, we remove them. Many people have responded to me in the past thanking me for helping clear their inboxes. To the right is imagery from our holiday unsubscribe campaign.
Remember: Our goal isn't to shove content into inboxes. It's to provide something worth reading. [Click To Tweet]
---

So, that's the fullproof, overly-detailed, stage-by-stage playbook we used to launch and initially grow the Sidekick Blog. Check off the three core stages, and you'll be off to a great start.

If we don't genuinely understand our end customers, how will we know what content interests them most / is best for them?

[Jump to Section]
Rather than publishing for the sake of publishing, let's optimize every post we produce for maximum value.

[Jump to Section]
Contrary to popular belief, subscribers are more important than leads. We'll dive into this more as we review each step.

[Jump to Section]
If you walk away with one overall lesson, let it be this: Don't just start writing for the sake of publishing blog posts. Start thinking critically about your actual content strategy.
Think this is a strategy you can get behind? We're hiring on the Sidekick Content Team. If you're a content crazy like me who wants to jump on board and own the internet, let's chat - my email is my twitter handle [at] hubspot [dot] com.