---
If you came here for some rant on why social media is important and it should be integrated into your business strategy, sorry, can't help ya there.
But if you already get it and want to totally own it, continue on - we may even be BFFLs by the end.
I first started using social media for business during a Twitter internship (yes, my entire internship was about Twitter) for The Good Men Project. My entire job was going through Twitter and finding relevant people to follow.
Come 2012, I spent a year on HubSpot's social media lead generation team. During this time, I went beyond that basic Twitter usage and started learning about strategically posting and building an audience across our three main channels at the time: Facebook, LinkedIn, and Twitter. We tested all the time. And in true HubSpot fashion, we then shared those results in hopes of making the social world a better place for marketers everywhere (so noble, right?)
Below is a presentation with the 30 best posting practices I uncovered during that time. Optimize every social media post with these tips, and I bet you'll start to see a lot more bang for your buck - or in this case, for your social media updates. If you prefer reading detailed copy over visual presentations, the full written version of the presentation is below.
---
---
As shown in the presentation, we're going to cover the three big social networks and their respective optimization tips. I've hyperlinked each section and it's respective tips so you can easily jump around this guide:


---
10 Tips for Facebook Update Optimization
Facebook currently provides six ways to launch your social media updates:


Status Update

Link Share

Photo Upload

Video Share

Event Update

Location Check-In
Now here's the thing: 1,500 possible updates are filtered per day on average Facebook user's News Feed. That means that at any given time that we log onto Facebook, we could see any of 1,500 different posts. But we don't. Instead we only see about 20% of them.
Our goal in optimizing our Facebook posts is to try and be among the 20% that makes it through the clutter. These 10 Facebook-specific tips should help.


1. Engage fans with photos.
The HubSpot social media lead generation team has run various tests on the effectiveness of images on Facebook. In fact, one of my favorite parts of being on that team was learning how to design through Facebook image experimentation. A more recent Social Bakers study indicates that images on Facebook constitute 93% of the most engaging posts. [Click to Tweet]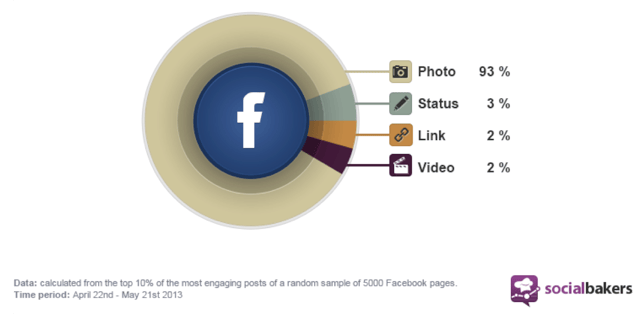 Warning: Facebook released an update to its News Feed algorithm to crack down on photos with click-bait headlines and URLs attached. While visuals are a great strategy, be careful not to lead your fans astray or employ practices that could hurt you in the long run.


2. Upload quality visuals at proper dimensions.
There's nothing worse than a pixelated, difficult to read visual when scrolling through a News Feed. Below are three key Facebook image dimensions to abide by: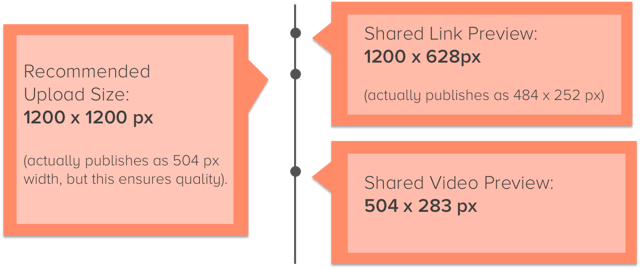 Resource: If you're not a real designer like me, these PowerPoint templates for social media cover photo dimensions may prove incredibly useful. I use them all the time. #powerpointfolife


3. Remove links from link copy.
I'll admit, this tip may be more personal annoyance driven, but I recommend removing URLs from a Link Update. If you're already sharing the URL through Facebook's Link Share option, including the URL again in the copy is not only redundant, but also occupying precious update real estate.

4. Increase post word count.
Now that we've removed unnecessary URLs, we have more real estate to increase our actual word count. According to Track Maven, Facebook posts with 80+ words garner 2X as much engagement. [Click to Tweet]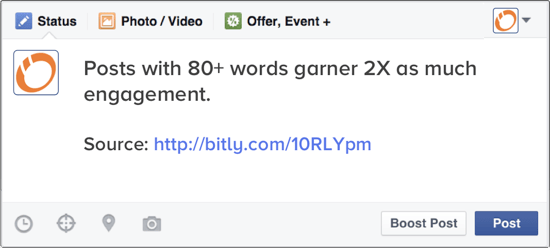 It's crazy to think that just two years ago, this magic word count formula was < 80 characters!


5. Test different punctuation.
Although it's hardly been two years since Facebook launched clickable hashtags, there's certainly been some interesting results so far. I recommend testing various punctuation types. Here's some worth testing based on a study from Track Maven:


Posts with hashtags (#) see 60% more interactions on average.

[Click to Tweet]

Posts with exclamation points (!) see 2.7% more interactions on average.

[Click to Tweet]

Posts that ask questions (?) garner 23% more engagement on average.

[Click to Tweet]

6. Post to News Feed over an album.
While photo albums on Facebook are great for highlighting major events, in terms of one-off photo updates, they're limiting. When I tested uploading a single new photo into an existing album, the engagement on that photo was nearly non-existent. A week later I posted the same image directly to our wall. This photo update then appeared on the News Feed as its own individual story and achieved much higher engagement.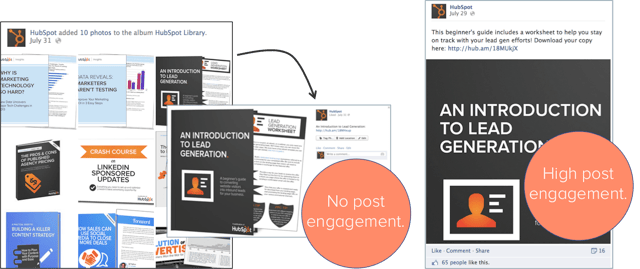 7. Keep link titles <100 characters.
When you're uploading a link directly to your News Feed, if the original post has a lengthy title, be sure to click into the title to edit it. Any title above 100 characters gets cut off when posted on your Facebook Business Page, and you don't want the core message to disappear as a result.


8. Test publishing after works hours.
When do you get the time to check Facebook? For many, it's typically before and after work. That's why it wasn't surprising that Facebook posts published during these off-work hours receive more engagement. Track Maven found that posts published after hours (5pm - 1am ET) see 11% more interactions than those published during the work day (8am - 5 pm). [Click to Tweet]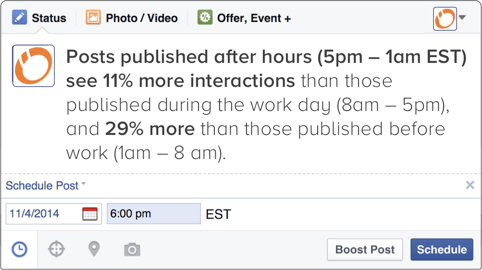 9. Test publishing on the weekends.
According to that same study, posts published on Sundays get 25% more Likes, shares, and comments than Wednesday posts -- even though fewer than 18% of posts are published on weekends. [Click to Tweet]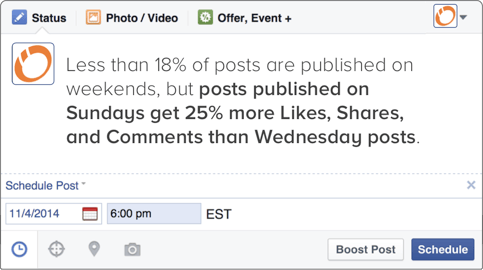 10. Experiment with emoticons :)
According to AMEX Open Forum, emoticons can impact our posts positively in a few ways:


That concludes our 10 Facebook-specific optimization tips.

Resource: Have yet to build your own Facebook Business Page? Check out my presentation here - over 462,243 people have found it helpful thus far.
---

8 Tips for LinkedIn Update Optimization

LinkedIn currently provides four ways to launch your social media updates:


Status Update

Link Share

Photo Upload

Video Link Share
While it may be daunting to hear that there are currently over three million companies with LinkedIn Company Pages, it's important to note that 87% of users trust LinkedIn as source of information that affects decision making. Although in my personal opinion, this just means people think they're being smart if the make a decision based on what a "professional" said on LinkedIn - but hey, whatever works, right?
If LinkedIn is a part of your social media marketing strategy, these eight optimization tips should help:


11. Share links for engagement.
A study by QuickSprout shows that including a link in your LinkedIn posts drives 200% more engagement. [Click to Tweet]

12. Keep link titles <70 characters.
When you're uploading these engagement-driving links directly to your LinkedIn Company Page, if the original post has a lengthy title, be sure to click into the title to edit it. Any title above 70 characters gets cut off when posted on your Page.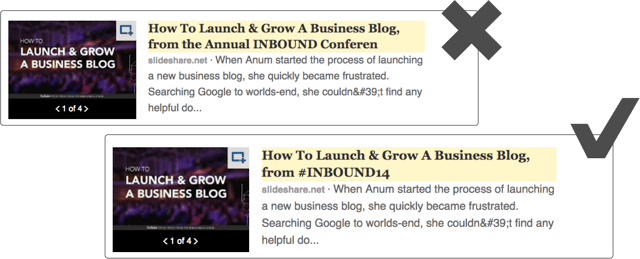 13. Keep link descriptions <250 characters.
Similar to the link title limitations, the description associated with your status update is given 250 characters before it's cut off with an ellipsis. So shorten your meta description to properly display on LinkedIn.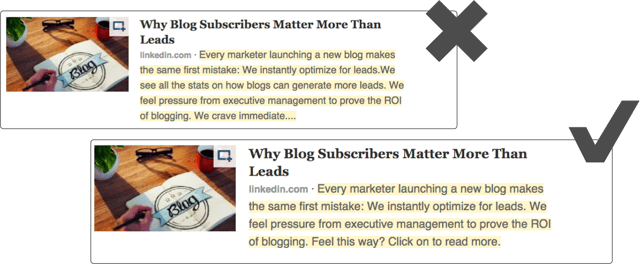 Resource: If you''ve found this post somewhat valuable so far, consider subscribing for more of my future content. I only publish one post every few months, so your inbox will be in no way bombarded.


14. Share images for more comments.
If you're more focused on engaging conversations on your LinkedIn Company Page, the aforementioned QuickSprout study revealed that posting images on LinkedIn results in 98% higher comment rate. [Click to Tweet]

15. Post videos for shares.
If you're focused on your Company Page's share rate, linking to YouTube videos results in a 75% higher share rate. [Click to Tweet]

16. Publish once per week day.
One of the great things about LinkedIn is that you don't need a high publishing volume to succeed. LinkedIn itself found that publishing 20 posts per month allows you to reach 60% of your audience. [Click to Tweet]

17. Generate leads with offers.
If lead generation is at the heart of your social media marketing strategy, then LinkedIn should be too. A HubSpot study found that LinkedIn is 277% more effective for lead generation than Facebook and Twitter. [Click to Tweet]

18. Send LinkedIn Group Announcements.
Personally, I value LinkedIn Groups over LinkedIn Company Pages. Companies seem to be finding success with both, but for me, the benefit of owning a LinkedIn Group is its built-in feature to email your group participants once a week.
When I used to send these LinkedIn announcements for HubSpot's Inbound Marketers Group, we'd see a huge spike in leads for that day - as shown with the yellow bars in the graph below. As you can see, the success of that send trickled through to the next day or two as well.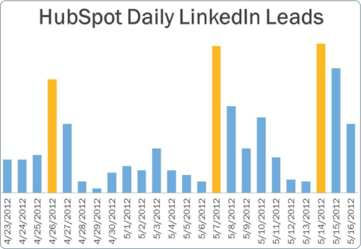 Idea: Don't own a LinkedIn Group or foresee your team doing so? Many Groups will allow you to employ their sends through paid sends or bartering for mutual marketing benefit.

With these eight LinkedIn posting techniques under our belt, let's move on to the final section.
---

12 Tips for Twitter Update Optimization

Twitter currently provides four ways to launch your social media updates:


Status Update

Link Share

Photo Upload

Video Link Share
Twitter is a world of noise. While it took three years, two months, and a day to reach the billionth tweet shared, it now only takes one week to send one billion tweets. To get noticed among all this noise, the following 12 tips should prove helpful:


19. Keep tweets short.
While 140 characters may already feel limiting, shortening your copy is valuable for two reasons:
1. Tweets between 120 and 130 characters receive the highest clickthrough rate. A study from Dan Zarrella shows that tweets in this happy medium are the CTR sweet spot. [Click to Tweet]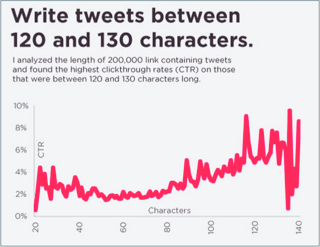 2. When re-quoted, our strategically placed hashtags of keywords may get removed. When users decide to quota your retweet with "RT @user" instead of just clicking the retweet button, the particular hashtags or keywords we included for viability may get removed. In the example below, when Amanda re-quoted my tweet, the hashtag #INBOUND13 was removed, losing it's potential to be seen that large event audience.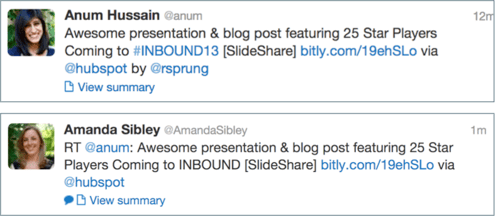 20. Include user handles for RTs.
How often do you search through Twitter trying to find mentions of articles you've written? Most likely never (or at least not very often). The only opportunities for the contributors of a post to re-share your tweet is when we include their handles right in the tweet or tagged in the photo.

21. Understand the difference between a Reply and a Mention.
This is the number one mistake I see on Twitter. When you place a Twitter handle right at the beginning of a tweet, you're directly sending a message to a user, but it is not a private direct message. This tweet can now been seen by you, the person you're sending the tweet to, and everyone who follows both of you.
For example in the dialogue below, the tweet I sent can be seen by @bleaning. It cannot be seen by all of my or @bleaning's followers, but it can be seen by everyone who follows us both, in this case @bmose14. By "can be seen," I simply mean it'll appear as a new tweet in @bmose14's Twitter stream.
22. Use hashtags judiciously.
It's pretty irking to read #tweets that are puking #hashtags to try and gain #visibility. While hashtags can be helpful in this way, Twitter itself says that including more than two in a tweet is likely overkill. Meanwhile a Salesforce study shows that tweets with 1-2 hashtags receive 21% higher engagement than those with 3+ hashtags. [Click to Tweet]

Resource: Still don't get the whole hashtags thing? My friend Rachel Sprung wrote a great article covering everything you need to know here.

23. Don't force trending hashtags.
While hashtags enhance visibility, forcing irrelevant trending hashtags usually doesn't. For example, including the annual #SXSW hashtag can help us reach the large audience tuning in over the course of a week. But non-event hashtags that are trending - such as #AllTimeLowMTV - are constantly changing. Not only do they not have a focused or engaged audience, according to Twitter, 17% of the top 1,000 search terms churn over on an hourly basis. [Click to Tweet]

24. Incorporate visual content.
When my Twitter for Dummies co-author, Brittany Leaning, tested visual content on Twitter, she found that tweets with images result in a ...




Resource: Need an easy way to ensure your photos are cropped for the proper Twitter photo dimensions? Check out these 60 customizable templates from HubSpot.


25. Don't auto-post Instagram media to Twitter.
In case ya didn't know, Instagram is owned by Facebook. While those two platforms speak with one another very nicely, Instagram and Twitter do not.
When you use the "share on Twitter" option via Instagram, those images get shared on Twitter via a crappy link that doesn't actually populate the image within the tweet - meaning, when you click on that tweet, you don't see the image unless you clickthrough to the post on Instagram. This image also doesn't get stored in your Twitter media or even get treated like a visual content update, which means it reaps no benefits of a visual update.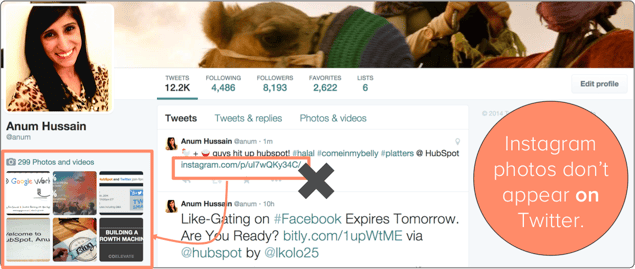 Simply Measured looked into this as well, and as you can see, tweets with Instagram photos get nowhere near the engagement or impressions per tweet that normal photo shares do.


26. Upload photos in the proper size.
Now if we're spending the time to upload our photos directly through Twitter, we want to ensure the images are optimized for the correct dimensions. Most people assume that a perfectly square image is the best dimension for Twitter, but the most engaged with Twitter photos are the horizontal ones that render nicely in a users horizontally structured stream. That simply means sharing photos that are 440 x 220px.


27. Tag users in photos for more retweets.
It's not always easy to include user handles in our tweets due to limiting character constraints, but when we upload a photo to Twitter, we can tag up to 10 people in that photo. I use this tactic frequently as it notifies all the people tagged and helps get more potential users to retweet my content. Typical use cases include tagging post authors, brands mentioned, or simply the people in the photo.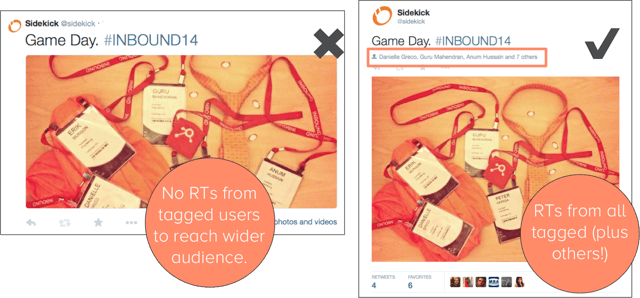 28. Place links in the middle of the tweet.
Dan Zarrella found that placing links roughly 25% through a tweet leads to a higher clickthrough rate than including the link at the very end. [Click to Tweet]
This is most likely due to the fact that most tweets include the link automatically at the end, so anytime there's a variance in a user stream, the tweet catches our attention more.


29. Shorten links for easier-to-read tweets.
In order for us to place those links in the middle of our tweets, we need them to be short and sweet. Twitter links can be around 20 characters before they get cropped with an ellipses. Most third party publishing tools (HubSpot, Buffer, HooteSuite) will shorten your links for you. If you're updating directly through Twitter, I recommend using a tool like Bit.ly.

30. Optimize Twitter publishing times.
The shelf life of a link on Twitter is only 2.8 hours. In order to get the maximum impact of each tweet, we want to publish at optimal times. According to data recent data from the incredible Kevan Lee at Buffer ...


the most popular time to tweet: noon to 1 p.m. local time
the early morning hours is when tweets receive the most clicks, on average
the fewest tweets are sent between 3 and 4 a.m.
Here's a specific breakdown of popular times to tweet within the four major time zones in the United States: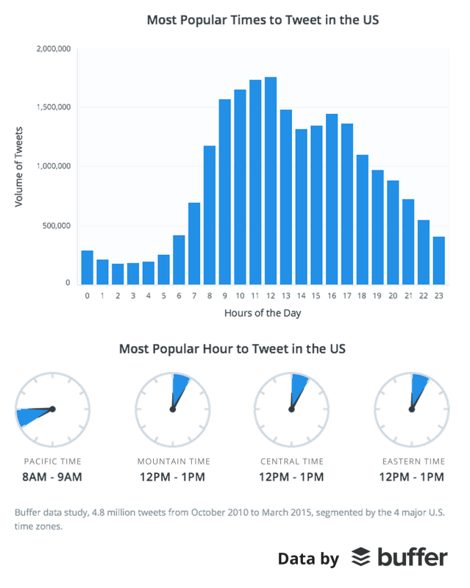 Resource: Want to master Twitter personally and for business? This post wouldn't be complete if I didn't mention my book at least once. Grab a copy of Twitter for Dummies to get the full-blown guide to Twitter.

[Back to Top ↑]
---

That's all 30 social media optimization tips. If you enjoyed this presentation / post, feel free to share with the pre-scripted tweets below - or better yet, subscribe for future posts.